Punchestown Festival History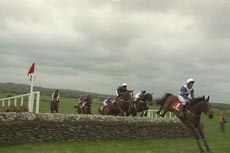 Punchestown hosted its very first race meeting as early as 1824. The next recorded race, held over four days at Punchestown, was in 1827. In those early days, the racecourse consisted of natural double and single banks, with stone walls as race obstacles. Spectators were free to watch steeplechase races from whatever position they chose, and could even follow the horses on foot. Horse-drawn vehicles and traps ferried spectators – at least those who didn't use their bicycles – to the races.
In 1850 Punchestown Racecourse was adopted as the permanent host for the annual Kildare Hunt race meeting, a two-day event that grew in popularity each year, attracting huge crowds of spectators. It's from this meeting – a spring "gathering of the clans" for the Kildare Hunt Point to Point – that today's National Hunt Festival at Punchestown developed.
In the 1960s, permanent enclosures and stands were added to Punchestown. With a move away from the traditional cross-country "pounding" races to shorter cross-country races that could be more easily controlled, artificial fences were also added. Steeplechases could then be held on an official park course, with smaller banks and stone walls.
Punchestown Racecourse has now been massively developed to support the crowds that flock to the National Hunt races it hosts, especially during the Punchestown Festival in April. Over the last decades of Punchestown Festival history, however, managers of the course have tried to maintain some of its "country" feel. They have also refused to make the enclosures too exclusive, in order not to break the tradition of Punchestown racing as a sport for all people to enjoy.
Today, the Punchestown Festival is often regarded as Ireland's Cheltenham. It attracts the top National Hunt jump and flat racers, as well as some of the biggest crowds of spectators in horse racing anywhere.
[pp_sports]